***COVID-19 UPDATE***
The upcoming 6th Munich Science Slam scheduled on April 3rd is postponed due to the novel coronavirus (COVID-19) until further updates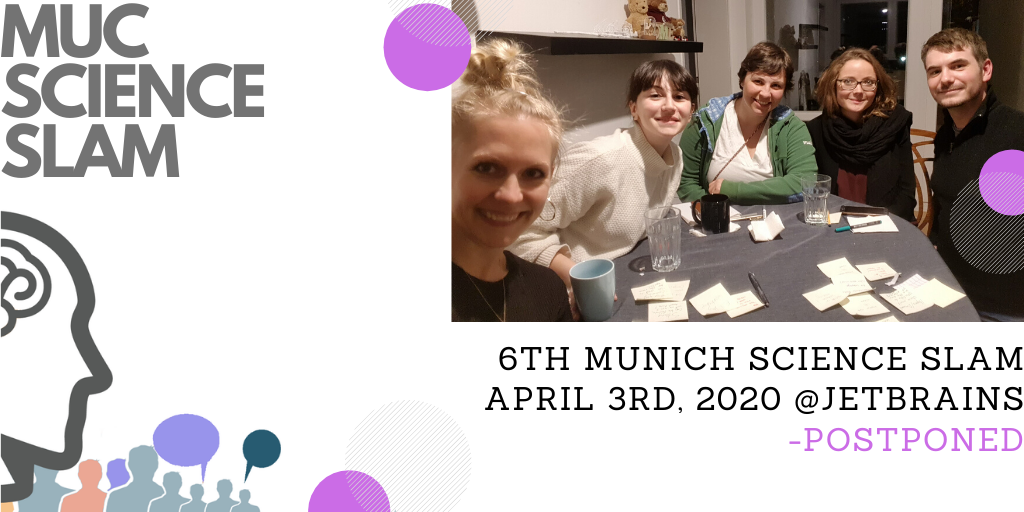 What we're about
Raising Awareness About Effective Oral Science Communication
Researchers and scientists are passionate about their research topics and spend plenty of time, efforts, heart and soul in their research. They should be able to clearly and precisely communicate their findings in order to advance their personal careers, scientific knowledge and increase public awareness to support informed decision- and policy-makers. However, they often struggle to present their research work to the broader scientific community.
This is where the Munich Science Slam helps!
The Munich Science Slam is a fusion of a presentation skills workshop, a rehearsal and the main science slam event. We provide a platform for scientists to improve their communication skills and make their research more visible:
Presentation Skills Workshop: in this pre-slam workshop, we provide the speakers with a toolbox of presentation techniques, from mind-mapping to design processes. We go all the way from "what are you passionate about?" to "what do you want to share?"
Pre-Slam Rehearsal: in the science slam rehearsal, we give the speakers the opportunity to practice presenting their research. They receive extensive and personal feedback to help develop the talk to be more informative and inspiring.
Science Slam Main Event: finally, on the science slam event day, the speakers share their research with the public! The slam takes place in a relaxed atmosphere, but nevertheless, the speakers are forced to step out of their comfort zone.
Active Audience Participation at the Slam: the audience mostly consists of scientists from various fields but also of people not working in science, who are curious to learn about the research that is going on in their hometown. This increases the event's training value for both the speakers and the audience and makes the event more enjoyable at the same time.
Join us in an open, relaxed and pleasant atmosphere where we will practice giving engaging scientific talks that are passionate and engaging!
"I liked that the teachers were great and engaging, that the groups were small and that active participation was necessary!"
"I was really pushed outside my comfort zone! But it was good!"
"I found the workshop it very stimulating!"
"I liked that we were put on the spot right away, forcing you to get out of your comfort zone."
"I enjoyed the workshop a lot, it helped me developing a nice concept for my presentation and to structure my ideas."